A Survey of Current Ops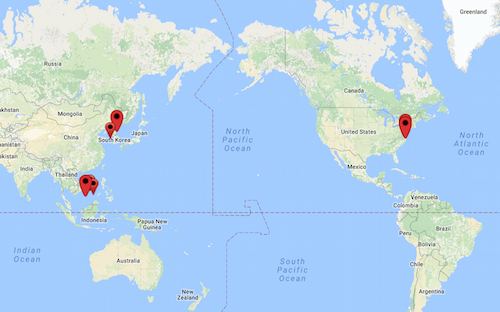 The following is a work of speculative fiction, or FICINT (fiction intelligence).
Strikepods are currently deployed both home and abroad, providing critical mission intelligence to U.S. and allied forces.
Operation Noble Prowl
Strikepods are closely monitoring the waters around the Korean peninsula, with a particular focus on Sinpo and Mayang-Do. Patrols are aggressively tracking DPRK submarines in both the Sea of Japan and Yellow Sea, and are on high alert for indications of SSB activity. Strikepods recently engaged four North Korean Gwisin-class microsubmarines while enroute to prosecute a DPRK submarine in the Yellow Sea.
Operation Eminent Shadow
Strikepods are currently monitoring the waters near Fiery Cross, Subi, and Mischief Reefs. They continue to monitor PLAN surface and undersea activities.
Robust Probe
A continuation of ISR operations in the Chesapeake Bay in the wake of Locust Point, Robust Probe guards against further incursions by Istina-class or other adversary microsubmarines. The operation was expanded in February, 2017, to include the middle Potomac River (in the wake of Istinas being tracked as far north as Hains Point), and now has grown to encompass the entire Chesapeake Bay, as well as the James and Elizabeth Rivers near Norfolk, VA.
Naval Station Norfolk
Now covered by Robust Probe, Strikepods were deployed to Norfolk earlier this month after watchstanders reported observing a scuba diver inside a gated pier area. An exhaustive, resource-intensive search turned up nothing, but given the history of Istina-class microsubmarines operating in or near the Chesapeake Bay, an immediate response was necessary.
[End]
Strikepod Command