Pakistan Seeks Micronaval Parity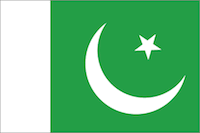 The following is a work of speculative fiction, or FICINT (fiction intelligence).
A source within Karachi Shipyard and Engineering Works has revealed the existence of a secret project focused on the design and development of a micro autonomous undersea vehicle.
PROJECT 181, also referred to as "Pasban" (Urdu for "guardian" or "protector") calls for the accelerated development of a first generation m-AUV to counter the potentially destabilizing presence of the Indian Saaya-class.

In light of India's imminent micronaval capability, Pakistan views the Pasban-class as integral to the future security of its ports, coastline, and, perhaps most critically, its sea-based nuclear deterrent.

The project is being aided by China, a sign of continued military ties between the two nations which includes joint development of the JF-17 combat aircraft, and Pakistan's purchase of eight S20 (Yuan-class) submarines.

China's role in backing Pakistan's micronaval ambition is rooted in a broader strategy of furthering its strategic foothold in the region. We believe, however, that the scope of China's assistance with the Pasban-class may be limited in order to maintain the first mover advantage of its own m-AUV, the Shāyú-class. Thus, while we expect the Pasban will possess design and system architecture characteristics similar to those of the Shāyú, they will likely be limited to non-sensory features such as hydrodynamics, propulsion, or systems integration.

The bulk of Pasban R&D is being conducted in-house using off the shelf hardware and software, as well as reverse-engineered commercial vehicles acquired on the open market such as the Teledyne Gavia, Kongsberg REMUS-100, and General Dynamics/Bluefin-21. There are also indications that the project may have benefitted from cyber operations conducted against India and/or the United States.

We believe that the Pasban will be used primarily as an MCM, ASW, and ISR platform. There is also vague intelligence regarding efforts to develop a sophisticated decoy capability, which would be consistent with PN concerns regarding the threat to its sea-based strategic forces.

At this time there is no intelligence as to plans for weaponization.
[End]
Strikepod Command