India Seeks Micronaval Capability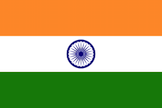 The following is a work of speculative fiction, or FICINT (fiction intelligence).
With an increasing PLAN presence in the Indian Ocean, and continued tensions with China on the Doklam plateau, India is seeking to offset its warship deficit through the development of an advanced microsubmarine, the Saaya-class.
Little is known of the Saaya program, as it is heavily shrouded in secrecy, but India has a history of successful indigenous AUV design, most notably, the Maya, and the AUV-150.
Sources in the DRDO report that the Saaya borrows heavily from these programs, but also incorporates new, highly advanced technologies enabling greater range, duration, and autonomy.

New Delhi recognizes the potential threat posed by China's undersea R&D, most notably the Shāyú-class microsubmarine, and it is perhaps this threat that India seeks to counter most urgently.

A significant micronaval program would be highly cost effective, enabling the large-scale production of micro combatants to not only counter the Shāyú presence, but also provide India with a low-cost force multiplier for both coastal defense and power projection.
[End]
Strikepod Command