Strikepods Deploy to Persian Gulf

The following is a work of speculative fiction, or FICINT (fiction intelligence).
Per Operation INDIGO CLOAK, two ten-ship Strikepods deployed today to the Persian Gulf on a mission to patrol for IRCGN Qom-class microsubmarines.
Evidence indicating Iraninan interest in acquiring a micronaval capability surfaced in September, 2016, when a source within the IRCGN (Islamic Revolutionary Guard Corps Navy) revealed the existence of a program to develop an indigenous microsubmarine.

At that time, the source indicated that the program, Qom, had benefitted substantially from micronaval technology provided by North Korea. Such assistance is consistent with the history of close cooperation, and what appear to be deepening ties, between Pyongyang and Tehran.

The Qom underwent testing and sea trials in August of this year, and approximately six vessels were deployed to the Persian Gulf earlier this month, possibly to augment Ghadir-class operations as decoys, or as an extension of ISR and ASW capabilities, but could also be armed for asymmetric attacks.

It is unknown whether the Qom is capable of effective undersea communication, or must surface to contact ships, ashore bases, or other undersea assets. Thus, we cannot estimate whether or to what extent Qoms are capable of operating in conjunction with manned platforms, or in coordinated attacks (i.e. swarming), as is the preferred tactic of the Iranian surface fleet. However, even with little autonomy or undersea communications capability, a simultaneous attack by "dumb" Qoms could quickly saturate the defenses of an enemy vessel.

Also unknown is whether the Qom has been weaponized. At 1.14 meters, however, it is likely to be used primarily in asymmetric attacks against smaller vessels, such as patrol boats, zodiacs, riverine command boats, or unmanned vehicles (surface and undersea), as well as vulnerable infrastructure.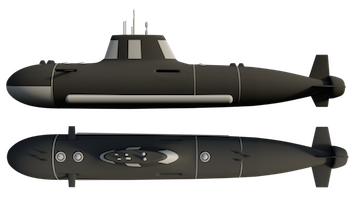 QOM-CLASS
Length: 1.14 meters
Beam: 13 cm
Propulsion: High-density battery
Speed: 15-20 kts (submerged)
Endurance: Unknown
Armament: Unknown
[ Concept Art: Dhimas Afihandarin ]
[End]
Strikepod Command