Shāyús Engage USS Decatur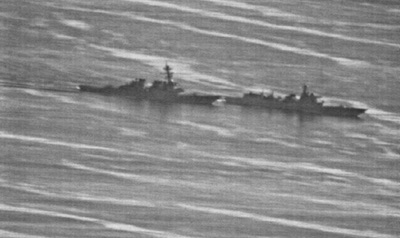 The following is a work of speculative fiction, or FICINT (fiction intelligence).
Prior to the recent high-profile close encounter between the USS Decatur (DDG-73) and the Chinese Luyang II-class destroyer Lanzhou in the South China Sea, Chinese Shāyú-class microsubmarines engaged the Decatur's seven-ship Strikepod escort, and eventually the ship itself.
In light of increased contact with Shāyú-class microsubmarines during the prosecution of Operation Eminent Shadow, Strikepods now escort all U.S. vessels engaging in Freedom of Navigation Operations (FONOPS) in the South China Sea.
On 28 September, a 7-ship Strikepod (CODA) was deployed from ██████████ at range ██ and depth ██.
CODA rendezvoused and completed handoff to USS Decatur at approximately 0300 hours, matching course and speed at a position 500 meters off Decatur's starboard quarter.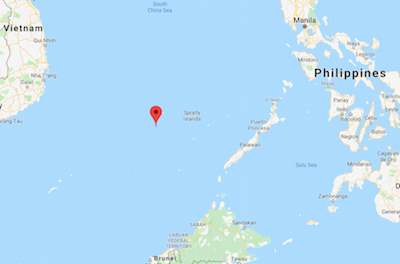 On 30 September, at approximately 0800 local time, Decatur commenced her transit through waters adjacent to Nanxun Reef, the northern reef of the Gaven Reefs located in the Tizard Bank of the Spratly Islands. The following is a chronology of events as they transpired.
|0830: Decatur is approximately 10km N/NW of Gaven Reefs, moving at 18 kts on heading 225.
CODA detects two contacts closing at range 2km, bearing 045.
Onboard acoustic analysis indicates contacts are Chinese Shāyú-class microsubmarines.
CODA designates Remoras 1 and 2 and orders I/D (intercept/disrupt).
|0840: Decatur's position is 5km W/NW of Gaven Reefs.
|0843: Remoras 1 and 2 intercept the Shāyús at range 800 meters.
Remoras engage with high frequency acoustic jamming.
Shāyús are successfully disrupted and temporarily disabled.
|0847: CODA Rogue detects six new contacts closing at range .75 km, bearing 350.
CODA designates Remoras 3, 4, and 5. Orders I/D.
|0855: Remoras 3,4 and 5 intercept Shāyús at range 300 meters.
Remoras attempt to disrupt the Shāyús with high frequency acoustic jamming, but are unnsuccessful.
Remora 3 engages onboard CLAXEM for decoy/deception to no effect.
Remora 4 engages CLAXEM/Minuet and attempts IW penetration of Shāyú onboard systems to no effect
Shāyús accelerate and close on Decatur.
CODA Pilots aboard Decatur authorize kinetic effects.
|0856: Remoras kinetically engage Shāyús.
Remoras 1 and 2 successfully neutralize Shāyús 1 and 2.
Remoras 3, 4 and 5 neutralize two of the remaining five Shāyús.
Three Shāyús escape and continue toward Decatur.
Remaining two elements of CODA are designated Remoras (6 and 7), and ordered to engage, but are unable to close in time.
|0858: Shāyús engage Decatur.
One vehicle detonates 10 meters off Decatur's port quarter.
Two vehicles impact Decatur's hull at approximately 40kph.
|0902: Decatur orders all stop.
Acoustic sweeps by Remoras 6 and 7 report no additional contacts in the area.
|0910: Divers dispatched for hull inspection.
Examination reveals impact points, no compromise of hull integrity.
Several pieces of Shāyú-class microsubmarine are recovered, suggesting vehicles broke apart on impact.
Preliminary analysis finds no blast damage or traces of explosive residue on Decatur's hull.
FONOP continues as planned.
| 0916: Decatur completes FONOP, exiting 12nm territorial waters.
| 0921: Chinese destroyer Lanzhou approaches Decatur, engaging in reckless and unprofessional maneuvers.
|0928: Decatur breaks off and heads out to sea.
Analysis:
Strikepods prosecuting Operation Eminent Shadow in the South China Sea have experienced ongoing harassment by Shāyú-class microsubmarines over the past eighteen months, and, on at least one occasion, engaged in kinetic conflict. However, the incident involving CODA and the USS Decatur marks the first use of PLAN unmanned undersea vehicles to harass and intimidate U.S. surface warships challenging Chinese maritime territorial claims. Although preliminary analysis suggests that the Shāyús engaging Decatur were not meant to inflict damage, their actions are a dramatic escalation of what was until recently a limited, largely symbolic conflict.
Analysts have observed that the actions of the Lanzhou were uncharacteristically, even bafflingly, aggressive given that, at the time of the confrontation, the Decatur was engaged in innocent passage through waters not under dispute by the United States. While it is possible that Beijing has adjusted the rules of engagement with respect to U.S. FONOPS - a real possibility given the precipitous decline in U.S.-China relations - it is also possible that the Lanzhou was reacting to what it perceived as an attack by CODA on the Shāyús, or even the Lanzhou herself. Or perhaps the Shāyús were deployed from a nearby base, or another vessel, unbeknownst to the Lanzhou, and when Decatur was forced to stop and inspect for hull damage, Lanzhou interpreted this as a provocation. Regardless, it was only after CODA engaged the Shāyús that the Chinese undertook overtly aggressive maneuvers, suggesting that the undersea engagement was indeed a catalyst.
The highly visible maneuvers by the Lanzhou, as well as prior incidents of PLAN harrassment, send a sharp political message not only to the United States, but the global community at large. The undersea microaggression, however, is a far graver communiqué meant specifically for the Trump Administration: Beijing can and will employ increasingly belligerent tactics when Chinese sovereignty is at stake. When confined to unmanned vehicles, and away from the prying eyes of the international community, this may be an entirely manageable tactic. However, it is not difficult to envision matters escalating even further, moving quickly from unmanned to manned vessels, from the opaque undersea realm to the broader battlespace.
[End]
Strikepod Command

[Friendly Reminder: This is a work of real-time, speculative fiction. Names, places, events, locales, timelines, and incidents are either the products of imagination or real, but used in a fictitious manner. Any resemblance to actual events is purely coincidental.]