Reported Sevastopol USV Attack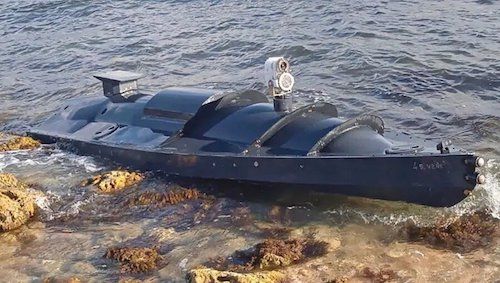 Twitter OSINT accounts are reporting a possible attempted unmanned surface vehicle (USV) attack on the Russian Black Sea port of Sevastopol.
***UPDATE***#Ukrainian maritime drone (USV) and drone (UAV) attack on #Russian navy at Sevastopol

Treat as unconfirmed, but likely.

Details limited. Video appears to be burning USV caught at harbor floating boom defenses

Even if no ships are sunk, attacks have major impact pic.twitter.com/EiMcGYOEjh

— H I Sutton (@CovertShores) March 22, 2023
Media reports indicate that Mikhail Razvozhayev, Sevastopol governor, said via Telegram that 3 "objects" were destroyed by small arms fire.

Unverified imagery of the scene suggests that the attack could have been thwarted by a port barrier defense system (floating boom), which was installed shortly after the armed USV swarm attack on Sevastopol in October, 2022.

It is unclear whether the USVs used in today's attack were the same model as those used in October, 2022, and the November, 2022, Novorossiysk attacks. A report surfaced today that UKR has developed a new USV, but it is unknown whether it was used in this attack.
Today's attack was likely an attempt to penetrate the port defensive perimeter by forcible entry.
USV operators could have attempted to "fly" the boom by leveraging a higher sea state to act as a ramp, or by making a high-speed run through a gap between the boom floats.

->UPDATE 03/23/2023: There are now OSINT reports that two of the USVs were able to jump over the boom and were inside the harbor when destroyed.

Operators may have sought to breach the boom by ramming and detonating the USV warhead with the intention of weakening or severing a connection point between floats.

If more than one USV was involved in the operation, as reported, it is unclear whether all vehicles were used to attack the boom, or whether a single USV conducted the boom attack while others were designated as a follow-on force to attack targets within Sevastopol.
Although USV attacks initially had a strategic effect by forcing the Black Sea Fleet (BSF) to alter its operations and assume a defensive posture, recent OSINT suggests that the BSF has resumed regular deployments, and is largely undeterred by the armed USV threat.
Various media have claimed that RU warships (possibly a frigate and minesweeper) were struck during the October, 2022 attack, but there has been no OSINT verifying these claims, or any official battle damage assessment.

Although officially, the UKR USV is capable of accommodating a "combat load" of up to 200kg (440 pounds), there are unverified reports that the warhead is approximately 100kg (220 pounds).

Reporting suggests that in addition to floating security booms, RU has put point defenses in place to counter USV attacks against Black Sea port facilities.

While operating at sea, BSF commanders may not believe that the USVs pose a credible threat due to their limited range and relatively small warhead. Kilo-class submarines, comparatively more vulnerable to attack than armored warships during surface transit, have also deployed to the Black Sea and participated in cruise missile strikes.