Strikepod Command™

Imagining autonomous undersea operations
Our defense analysis informs (and is informed by) the Strikepod Command™ series of tabletop simulations which model autonomous operations in the undersea environment.
▶︎ COUNTER POSEIDON
The continued development and testing of Russia's nuclear-powered, nuclear-armed torpedo/AUV, Poseidon, has prompted many questions and concerns, including how to defend against such a weapon. Counter Poseidon is designed to simulate the use of various sensors, countermeasures, and weapons to disrupt and/or destroy a Poseidon attack.
A microgame of Counter Poseidon is currently available:
▶︎ BLENDED WING - Coming Soon
Mine warfare continues to evolve, and the convergence of mines, torpedoes, and AUVs will eventually enable both state and nonstate actors to integrate autonomous undersea systems into offensive maritime operations. But with limitations in onboard energy storage, and therefore vehicle range and endurance, how might an actor structure a mobile, autonomous minefield in the near to medium term? The blended wing underwater glider is a unique type of AUV that is capable of accommodating a heavyweight payload and operating over long distances for months at a time. Strikepod Command: Blended Wing simulates offensive mine warfare operations using a swarm of weaponized blended wing underwater gliders to engage both surface and subsurface targets.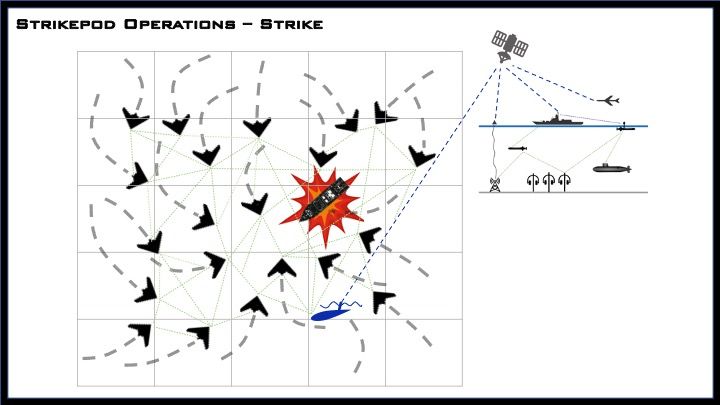 ▶︎ SUBSEA/SEABED OPS - Coming Soon
Recent events, such as the sabotage of the Nord Stream 1 and 2 pipelines in the Baltic Sea, as well as severed undersea cables connecting the Scottish Shetland Islands to the mainland, have underscored the need to protect underwater infrastructure. Strikepod Command: Subsea/Seabed Ops seeks to simulate the defense of seabed assets, such as pipelines, cables, as well as other specialized infrastructure for oil/gas exploration, scientific observation, and intelligence gathering.